I thought about writing an update, but there's NOTHING to really update with 😀 still… I've gotten some emails asking how it's going and…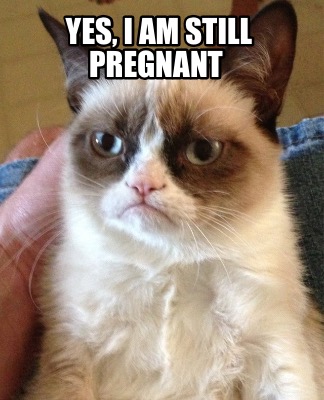 And it feels like how Grumpy Cat (RIP) must have felt with that face LOL 😀 !!!
Very much ready to be done, but I have a little more than a week to go.  At least it's another scheduled c-section, so it's not like this is going to go on forever, but with how 2/3 babies have come earlier than scheduled, no one really knows what to expect!
We had a scare this past week where I was having regular, intense contractions for HOURS… but at the hospital the dang contractions just weren't showing up on their monitor (when googling, this seems to be a normal thing if it's lower or back labor – go figure!).  The nurse thought I was probably in, "early labor," which can last for weeks … Greeeaat!!!  LOL
So it's been on and off again contractions since then, but I've resolved not to go back unless I think he's about to fall out.
Cleaning has gotten fun.  Last night there were some crumbs from the kids' dinner under the table and I foolishly tried to reach them (why I didn't sweep I have no idea – pregnancy brain?) and I practically rolled away trying to reach that low!  Apparently the floor is off limits now for how round I've gotten.  I'm thinking this baby must be bigger than our last (each baby has curiously been a little heavier than the last, which is normal statistically, but still kind of odd to me).
So apparently, since I've had 3 c-sections before, it's actually fairly risky for the laws/guidelines and hospital policies to force physicians to push out scheduled c-sections until after 39 weeks.  I know I've thought of this before, but I've never been interested enough to look into all the details.  Apparently, it's better for a woman whose had 3+ to schedule for as early as 37 weeks, because the risk of having a uterine rupture (from contractions – which I've been having!!) is higher.  There isn't much literature or research out on this yet, but I found a very good article here .  (You have to register for Medscape to read the full article, but it's more than worth it in my opinion!)
Here are some quotes from the article
Waiting until 39 weeks increases maternal risk," said Laura Hart, MD, a fellow in the division of maternal fetal medicine at the University of Texas Health Science Center in Houston. "The optimal time of delivery is 38 weeks for women with 2 previous cesarean deliveries and 37 weeks for those with 3 or more."

"To our knowledge, this is the first study to analyze maternal and perinatal morbidity by the number of previous cesarean deliveries," said Dr. Hart, who presented the results here at the Society for Maternal-Fetal Medicine 34th Annual Meeting.
So this research was presented back in 2014, and I haven't been able to find anything else that was more recent.  There's a lot of money involved in this decision though, with insurances and Medicaid not wanting to pay or cover elective c-sections unless medically necessary.  It's interesting to me that physicians haven't tried to push the research to show that earlier deliveries for repeat c's are medically necessary due to increased risks, but perhaps with time we'll see more studies like this.
"Despite the intention to wait until 39 weeks, some women will go into labor, have spontaneous rupture of membranes, experience placenta abruption, or develop complications such as hypertension," she noted. This often leads to more unscheduled and emergency cesarean deliveries, which can increase the risk for further complications.

Delivery before 39 weeks has been discouraged for uncomplicated pregnancies because of concerns about neonatal morbidity in early-term infants. However, supporting data are limited, said Dr. Hart, and the wait could actually increase the risk for women with multiple previous cesarean deliveries.
In general, I've noticed doctors don't agree with the new-ish policies in place where they aren't allowed to make the decision to schedule earlier (hospitals often prevent them now from even trying to schedule earlier).  It sounds good in theory, to wait until 39 weeks, but from a doctor's perspective, it puts the patient (and them) into this situation where the baby could come early, and risk an emergency c-section situation where they feel rushed, instead of it being calm and planned – or have other complications.
Delivery at 39 Weeks Not Optimal

Only about 60% of women with 2 previous cesarean deliveries were able to delay delivery until 39 weeks, and only about 50% of those with 3 or more.
So I'm in that 50% that may or may not make it to the scheduled date before going into active (and dangerous) labor.  It's interesting at least.
I will say, with our second, I had to wait it out and scheduled for the FIRST day of that 39th week, and yet our little viking son came the day before.  And he came so fast and with so many contractions closer than 3 minutes apart, the Dr. had to really rush to get there in time and it *did* feel like a very rushed and emergency-like situation.  VBACS are possible, technically, but very risky for uterine rupture once one has been cut open this many times.  I didn't feel like risking it back then, and now, after so many, it really isn't wise to try.
I wondered the other night if March of Dimes had anything to do with putting pressure on physicians and hospitals to be forbidden from delivering before 39 weeks, and low and behold I was right!  I do love how much they advocate for pre-term babies, but I did notice they are pushy with their ideas.  They are one of the major lobbyists who have been trying to pass bills into law where women with repeat c-sections no longer have this right to choose an earlier (much safer and controlled) delivery.  They've succeeded in impacting low-income women, who already have higher rates of risky pregnancies and maternal death, as March of Dimes succeeded in taking away their Medicaid coverage for elective repeat c-sections before 39 weeks, essentially forcing them to have to wait.
Instead of only affecting the lower income population though, it's hard to find a practice and hospital where the doctor is also allowed this freedom to choose for you what is, "medically necessary."  Becasue of the medicaid issue (at least in our state), hospitals are now forbidding anyone to be able to schedule at what used to be considered full-term (37 weeks).  You just have to wait it out, hope your baby doesn't come early, and hope that when the contractions do start, you can get to a hospital before your uterus ruptures!  Ok… a little too dramatic but labor contractions – especially when you have a uterus isn't supposed to go into labor – get intense and dramatic pretty fast 😀
I'm not too worried, more annoyed if anything that we've lost another medical freedom due to pushy lobbyists who don't listen to medical advice or allow individual doctors and their patients to make their own professional/preferential medical decisions (but hey… follow the money).
Anyway… enough of that stuff.  I just thought it was interesting and worth mentioning as I'm having to wait it out.  We did choose a date for sentimental reasons that is closer to 40 weeks anyway though, because I just wasn't thinking about the risk of coming early, but who knows when this little one will arrive!
I took some last chance pregnancy pictures – just because it's kind of fun to look back on and see how big I was in relation to past times or even to the postpartum deflate-gate LOL
So this is full-term… 38 weeks and a few days.  Baby feels incredibly heavy but I LOVE feeling him move and knowing he's ok in there.
Sorry – making a face 😀  I just feel SO. VERY. HUGE and puffy, even though I know it's mostly just belly… I did gain quite a bit this time, although with the miscarriage being right before, I wasn't tracking it as well due to feeling so down.  It's funny how each pregnancy has been so different though, almost based on what the baby may need.  I'm also pretty tall, so 45-50 pounds doesn't show the same as it would on someone much shorter.
I thought it'd be interesting to post a close-up face picture, because I look really puffy and haggard with this pregnancy (and it was like that from the beginning to be honest).  That supposed, "glow," and gorgeous skin never appeared this time, and apparently pregnancy can age you up to 11 years (with subsequent ones)!  From this linked article:
Earlier this year, researchers from George Mason University found that childbirth could age a woman by as many as 11 years.

While it may be nerve-racking to learn that having children can accelerate the aging process, scientists still don't fully understand why this happens and don't want women to worry.
My dermatologist tried to warn me after our daughter that it would be hard, "on my face," her exact words, but I don't care so much.  It's almost like I'm too tired to care, plus our kids are so cute and SO worth it!  And realistically, it may have something to do with my thyroid, how we had just found out it was underactive right before getting pregnant after a miscarriage.  A low thyroid contributes to premature aging as well, and I could see fine lines and just an overall, "haggard," look right from the get-go.  This picture isn't filtered, although there is some very minimal makeup.  Mostly it's just to show the fine lines.  I'm aging… that is for sure.  It will be funny to see what my longtime dermatologist (who's seen me since I was a preteen) will say this time after the baby's born.  She's very much about aesthetics… we just have different views on whether kids are worth it or not.
I do love and appreciate how my husband loves knowing we're aging together.  To me, it's actually romantic (but then I find almost anything romantic)!  Both of us getting wrinkles, pure white hairs for me, grays for him, feels more like a journey – and one I'm not alone in.
Yay to babies, their toll on your face LOL, getting older and feeling haggard – or not!  I could do without the haggardness and exhaustion, but hopefully after the delivery my energy and life will come back and I won't feel so much like a zombie.
Fingers crossed 😉