Give us access to your children
or We'll Accuse You of Being Homophobic

!
Or un-loving.  
Or judgmental.
Or unChristian.
You know… just pick your choice of which they'll try to shame you of for holding to Christian morals and values, especially if you're "trying to protect children."
How dare you try to protect children from the gay/trans/abcd-of-the-week agenda!  Slutty outfits worn by men pretending to be women are what our babies and children should be exposed to early in life, so that they're not "judgmental," like you Christians. /s
Remember… this is all about desensitization to perversion and satanic influences (as the first photo is a self-ascribed, "satanic goddess," and "demon,").
It's painful to see these little faces being exposed to this kind of societal degradation, and literally preyed upon during story time, while their parents believe it's "good" for them.  And you know these parents probably believe it is "good," for their children.
"Woe to those who call evil good
    and good evil,
who put darkness for light
    and light for darkness,
who put bitter for sweet
    and sweet for bitter."
Isaiah 5:20
It's interesting the link between feeling "good," or even "virtuous," in being seen as "non-judgmental," toward certain sins.  "No, I'm not like that Pharisee," or "no, I would never judge a pedophile… I judge the Christians who judge pedophiles!"  It's a strange kind of self-righteousness or pride that blinds Christians (or secular people) to what they're instead accepting.
When there is no line drawn, when "good," is really evil, are they still too prideful to see it?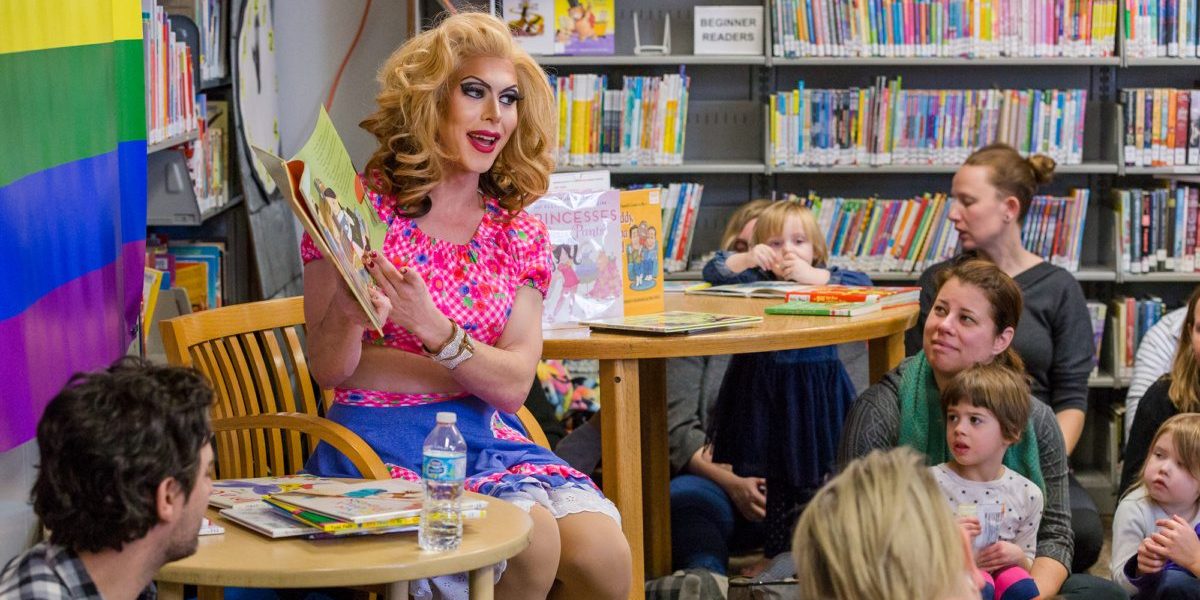 Children are not considered "sacred," anymore, which is also a major reason why we are seeing parents who willingly take their children to events like these.  To me this is probably more devastating, than merely Christians refusing to judge good as good, and evil as evil.  When Children lose their sacred status in a society, they become the prey of everything evil 😥 .
It's important to remember that nearly every biblical civilization that became evil enough to warrant massive destruction (self-induced or one could argue by the wrath of God), had to deal in the end with evil pursuing children because ultimately, that is as "far as they can go."
Babies… toddlers… children in general, have an innocence about them that is designed by God to be protected by loving and wise parents.  They are Christians' most valuable asset as they insure the future of the Church, and must be protected.
So therefore, evil pursues children.
Through forcing them to see what their little eyes shouldn't see, and wouldn't have seen several decades ago, due to morals and standards in society protecting them.
Through having them interact with adults with psychological perversions or satanic preferences and "play-acting," all the while believing this is of course, "good," for the children.
Desensitization.  It's a subtle process of defilement that first happens to the mind, but can also affect the body, however it's first battle is over the mind in what should be accepted (or judged), or normalized.
When you look at these pictures carefully, this is evidence of a battle for our children's minds.  It is evidence of evil pursuing children so that they become slowly defiled in their thinking.
Why else would they be insisting trans-men have access to your children and babies for story-time read alouds?
Let us be bold in showing this for what it is (or are our sense that desensitized already?), and uncover the real motivations in the aggressive targeting babies, toddlers and young children by the gay/trans/abcd-of-the-week movement.
Related Reading –